Development
·
Hägersten
·
Temporarily Remote
Är du en passionerad embeddedutvecklare som är nyfiken på att jobba som konsult?

Hos oss får du vara en drivande kraft i utvecklingsprojekt inom telecom, industri, medtech och e-hälsa.
Nordforce Technology är ett innovativt konsultföretag inom mjukvaruutveckling. Vi hjälper våra kunder över hela utvecklingsprocessen, från idé till färdig produkt. Vi söker nu flera personer för anställning till vårt utvecklingsteam inom embedded. Vi strävar efter att de flesta i teamet ska ha över fem års erfarenhet av att arbeta med produkter med inbyggd mjukvara.
Vi har många exempel på lyckade projekt vi jobbat med, i olika branscher:
Medicintekniska produkter –applikationer för mätning, behandling och uppföljning i hemmiljö av patienter med kronisk smärta, Parkinson, diabetes, hjärtproblem m.m.   System för patientdatainsamling i kliniska studier.
Telecom – Mobiltelefonisystem 2G, 3G, 4G och 5G, fiber-transceivers,
Internet-of-things: M2M plattformar och applikationer för el, olja, gas, vatten, avfall, skogsmaskiner m.m.
Industri - system för tvätt- och sophantering, och inspektion av avloppsnät
Vi söker dig som känner igen dig i följande: 
Du vill arbeta med att utveckla system med hög kvalitet och säkerhet och hitta nya användningsområden där IT och teknik underlättar och effektiviserar. Du är lösningsfokuserad, delar med dig av dina idéer och är självgående. Uthållighet och ordningssinne är önskvärda egenskaper.
Några av dina tidigare erfarenheter:
Kan programmera i ett eller flera språk, till exempel Java, C/C++, Python, Erlang, Elixir
Jobbat i små och större projekt - vet hur man hanterar verktyg som GIT, Jira och dylikt
Skriver tydlig, begriplig och testbar kod 
Varit mentor för juniora utvecklare
Skrivit enhetstester/automatiserade tester och eventuellt använt testverktyg
Jobbat agilt –Scrum, Kanban, Trello
Nätverkskunskaper
Realtids OS, Linux
Om oss 
På Nordforce jobbar vi ofta i mindre team. Kommunikation, tillit och lojalitet är A och O för att nå ett bra arbetsklimat i gruppen. Lika viktigt är att kunna arbeta självständigt, speciellt i dessa tider när vi sitter på distans.
Vår kultur präglas av och består av tre ord: nyfikenhet, omtanke och professionalism. Vi hjälper varandra att lyckas och vi har höga ambitioner, både som individer och företag - och vi vill utveckla produkter i världsklass!
Department

Locations

Remote status

Temporarily Remote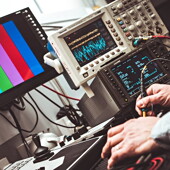 Contact
Ulf
CTO – Development
Why you should work with Nordforce
Make a difference

Every year we have a goal to set aside resources for working with "Do-good projects" where we work and support projects that we believe will have impact on making our world a bit better. Project examples are gambling addiction, enhanced treatment for Parkinson disease and better care for newborn children in developing countries.

Career development

As a consultant one of the advantages is that you can experience different businesses and organisations with the same employer. But we also want our staff to be able to attend to courses or seminars they find stimulating or necessary for their daily work.


Health benefits

We encourage our employees to have their health as a private goal and sponsor training and health care. Working in the IT business is sometimes stressful and a healthy body and mind is a powerful tool to handle stress. All employees have access to Länsförsäkringar Gruppsjukvård which offers various health services. Another benefit is Friskvårdsbidrag and an offer to take part in joint races we decide to take part in.

"Fika" and social activities

Our employees work as consultants in our clients projects from our office in Midsommarkransen or at our clients premises, mainly in the Stockholm area. To keep ourselves updated with each other we host social activities. With the ongoing pandemic situation we have co-working days and online "fika".

At our office we always have some survival food to keep the energy level up. We try to keep a healhty touch with smoothies and fruit baskets but we are also fond of sweet treats...
About Nordforce Technology
Our field of work covers programming Web, cloud, mobile and embedded solutions as well as hardware design for customers in medtech, telecom among others.
Development
·
Hägersten
·
Temporarily Remote
Är du en passionerad embeddedutvecklare som är nyfiken på att jobba som konsult?
Loading application form
Already working at Nordforce Technology ?
Let's recruit together and find your next colleague.